RG Hot Fix Convex Nailheads
Convex nailheads have dimension and depth. They are a great alternative to pronged nailheads. They can be hot fixed or glued.
They are available in 6 great metal colors and 7 different sizes. From 3mm (10ss) and up to 15mm.
Mix and match the RG convex line of nailheads for great designs or with rhinestones for dimension and extra sparkle.
We have a sample of these hot fix nailheads on our RG Premium Sample Card.

---
CONVEX ROUND - ODD LOT SALE
Odd Color Convex Rounds, while supply lasts.
4mm, Gold, Copper =
Sale = $1.49

/ Gross (Regular $2.49/Gross)
5mm Gold, Copper =
Sale = $1.99

/ Gross (Regular $2.89/Gross)
---
RG Convex Round KITs, 10 Gross (1,440) of Nailheads -
$29.89

per package.

You will be receiving a total of 10 Gross, 1,440 Pearls comprised of:
4mm (16ss) - 3 Gross
5 mm (20ss) - 3 Gross
6mm (30ss) - 3 Gross
8mm - 1 Gross
SAME COLOR PER KIT, No mixing of colors
RG Hot Fix Convex Nailheads are available in the following sizes:

These nailheads are sold as follows:
All Colors are available in all sizes
Convex nailheads are sold by the Gross. 15mm is also available by 1/2 a gross (72 pieces).
For best pricing you should consider purchasing bulk.
DEEP DISCOUNTS ARE AVAILABE FOR LARGE VOLUME BUYERS -
SEE WHOLESALE PRICES TAB BELOW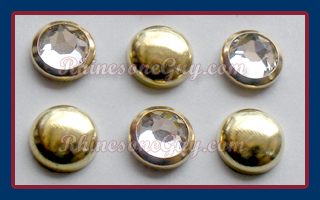 Click on

PRICE TABS

below for various quantities and pricing options:
RG Hot Fix Nailheads Convex Round (1-9 Gross)
1 Gross = 144 rhinestones; Measured by weight, Price Per Gross, (15mm is sold by 1/2 gross - 72 pieces, as noted)
If you need 10+ gross of a particular size and color check out the bulk prices for discounts.
Size

4mm

5mm

6mm

8mm

10mm

12mm

15mm
1/2 Gross
N/A
N/A
N/A
N/A
N/A
N/A
$11.99
Per Gross
$2.49
$2.89
$3.59
$5.59
$7.29
$12.89
$19.09
RG Hot Fix Convex Round Bulk (10 - 50 Gross) - Save
To get discounted prices you must purchase a minimum of 10 Gross. It means 10 Gross of same size, same color (1,440 minimum).
10 Gross = 1,440 nailheads; Measured by weight
Size

4mm

5mm

6mm

8mm

10mm

12mm

15mm
Per Gross
$2.19
$2.69
$3.29
$4.99
$6.69
$11.69
$16.99
Min. Purchase
$21.90
$26.90
$32.90
$49.90
$66.90
$116.90
$169.90
RG Hot Fix Convex Round Wholesale
We deep discount our hot fix nailheads line for those with larger production needs.
Our hot fix nailhead prices are built in tiers to help you build your business. We want to be your partner. Please call us to discuss.
We start discounting at 50 gross, SAME SIZE/SAME COLOR. Only items meeting the 50 Gross minimum will be discounted. Items purchased in quantities of less than 50 gross will be priced at prices above.
When you purchase with deep discounts, even 1 item you are NOT eligible for:
Any promotions
Free Shipping - we charge you what it cost us to ship to you and large orders require signature and insurance.
Minimum Purchase 50 Gross.
1 Gross = 144 nailheads; Measured by weight, Price Per Gross
Size

4mm

5mm

6mm

8mm

10mm

12mm

15mm
50 Gross +
$1.89
$2.19
$2.99
$4.19
$5.89
$10.39
$15.39
100 Gross +
$1.39
$1.79
$2.49
$3.69
$4.99
$8.79
$12.89